Opioid-Safety Resources Toolkit for Healthcare Providers

Some resources for download on this page below require software for opening Adobe PDF (pdf), MS Word (doc), and MS PowerPoint (ppt) file formats. If you do not have the software <click here>.

I. On-Site Education & Information for Patients/Caregivers
Opioid Safety Patient/Caregiver Education Slide Presentation
This brief slide presentation is for support staff to use with patients and their caregivers at the time of opioid prescribing and it should take about 12 minutes for the presentation. At the end, there is a quiz that can be used as a pre- or posttest to gauge patient and/or caregiver understanding of essential points. Under the Creative Commons copyright license you may delete any slides, change their order, or modify content slightly to suit your needs (the copyright acknowledgment must be retained).
A separate version of the slides is available as a PDF document to print and make a table-top flip-chart presentation if you prefer.
As a companion to this presentation, there is a one-page handout for distribution to patients/caregivers as a take-home reminder of vital information in the slides - see below.

Download the MS PowerPoint (PPT) Presentation.

Download the PDF Flip-Chart version.
Patient/Caregiver Opioid Safety Instructions Handout
This one-page handout, in English or Spanish, accompanies the Presentation above or it can be used on its own. It contains essential opioid safety tips, a brief listing of side effects, cautions about taking opioid medications safely, and guidance for identifying opioid overmedication or overdose and what to do. It is not intended to replace any other instructions or information sheets pertaining specifically to individual medications.

Download the Safety Instruction Handout.

Descargue en PDF la versión en español.
Overdose Emergency Procedures - What to Do Until Help Comes
Steps for managing opioid overdose situations are described in Section 4B <here> of the Opioids911-Safety program. Along with that, there are instructions explaining the recovery position, and how to do rescue breathing and CPR in adults (including recently endorsed "Hands-Only CPR").
Healthcare providers may want to access and print these instructions (in English or Spanish) to give to patients, and their caregivers, to have handy should an emergency situation arise.

Website version: <click here>.

PDF download version: <click here>.

Descargue en PDF la versión en español <Haga clic aquí>.
Emergency Info Reminder Cards for Patients/Caregivers
The Opioids911-Safety program recommends that patients keep emergency information next to each telephone in their home and also carry it with them at all times. For their convenience, you can download a single sheet of 10 business-size cards with vital information for handout to patients/caregivers. Each card has the Opioids911-Safety website URL, plus emergency phone numbers and space to write-in pharmacy and opioid prescriber contact information.

Download the MS Word document.
This Microsoft Word document is set up to print ten identical 2"x3.5" business cards on Avery Label products #8871, 8872, 8376, 8377, 3612, 5911, or a compatible product. Also, either this MS Word document or the PDF format (below) can be printed on any heavy paper and the cards manually cut out. This has emergency numbers for USA - see Universal Version below for use in other countries. Clinic information can be printed or stamped on the reverse side of each card.

Download the PDF version <here>.
This is for printing on any heavyweight paper. Set the printer page scaling to "None" and cut out cards along dashed lines. This has emergency numbers for USA - see Universal Version below for use outside the U.S.

Universal Version - download MS Word document.
This is similar to the above Microsoft Word document; however, there are empty spaces for typing or writing-in contact information that is particular to any country. It can be printed on Avery Label business card sheets (as above) or on any heavy paper and the cards manually cut out.
MedCard - Personal Health Information & Medications List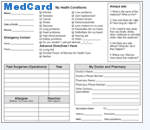 The "MedCard" provides an easy way for patients to keep a record of personal information, medical history, and the medicines they are taking (including dose, when and why taken, and prescriber name). There are instructions included for how patients should fill-in the information and fold the document to a size that will fit in a wallet or purse.

MedCard PDF is available <here>.
Patient/Caregiver Opioids-Safety Quiz
This is a stand-alone and modified version of the quiz included at the end of the educational slide/flip-chart presentation (described above). It covers critical points and can be used before or after any on-site patient/caregiver education to test their knowledge of vital information. It also can be used as an aid for discussion with patients/caregivers. And, during follow-up visits it can be used to assess patient/caregiver retention of information from home-study of the Opioids911.org website, allowing the healthcare provider to identify and correct misunderstandings or inappropriate practices regarding opioids. This MS Word text document can be modified to accommodate particular clinical situations.

Download the Opioid-Safety Quiz MS Word document.
Sample Opioid Treatment Agreements
Many sources recommend having patients prescribed long-term opioid therapy read and sign an "Opioid Treatment Agreement." This specifies patient obligations and responsibilities, along with any special clinical policies, medical treatment, such as those regarding confidentiality, prescription refills, urine drug monitoring, etc. Such Agreements are often especially recommended (or required) in patients at high risk for medication abuse or having a history of substance abuse or psychiatric comorbidity.
Several examples of Opioid Treatment Agreements are provided in a text document that may be used as is or modified in accordance with particular clinic policies and practices.

Download MS Word document with sample Agreements.
Back to Contents List for this Page


II. Reference Materials for Providers, Patients, and Caregivers
Common Opioid Pain Relievers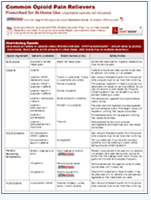 This table, from Section 1C of the Opioids911-Safety program <here>, lists opioid analgesics that are commonly prescribed for "at-home" use by patients (eg, it does not include injectable products). Listings are organized by short- and long-acting formulations, with generic and brand names, along with special notes concerning safe use. Links are provided to available FDA-approved Medication Guides for the respective products.
Healthcare providers will find this to be a useful reference for themselves and, in certain cases, to print for their patients.

Go to the table of opioid analgesics <here>.
It is expected that this table will be updated periodically as information changes or new products are introduced. So, check back periodically to view the latest information.
Opioid Pain Reliever Side Effects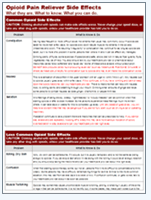 This table, from Section 2C of the Opioids911-Safety program <here>, describes in some detail the various potential adverse reactions or "side effects" associated with opioid analgesics. Along with the descriptions, are discussions regarding the natural course of these effects, how they are treated, and what patients should do if they occur. This information is not intended to replace the specific information or instructions that may accompany individual opioid products.

Go to the table of opioid side effects <here>.
Opioid Safety Patient Education Videos
from the American Chronic Pain Association (ACPA)

Since 1980, the ACPA has offered peer support and education on pain management to people with pain, their family and friends, and healthcare professionals. This series of 15 short video programs for viewing online covers a range of important topics on opioid safety, including: how opioid pain relievers work; their risks such as tolerance, dependence and addiction; safe practices for storage, disposal, and preventing theft; how to stop taking opioids if necessary; traveling with opioids; and other subjects.

Access the ACPA series at: https://www.theacpa.org/wp-content/uploads/...
Safe Opioid Disposal

Throughout the Opioids911-Safety program, disposing of leftover opioid medication is stressed, and safe disposal practices are discussed in Section 3E <here>. In lieu of drug take-back programs or other specific instructions, the FDA has a special website with a list of opioids that should be flushed down the toilet. Healthcare providers should be familiar with the latest guidance from the FDA.

Access the FDA Safe Disposal website <here>.
Back to Contents List for this Page


III. Opioid Prescribing & Addiction Treatment Resources
Opioid Rx at Pain Topics
Pain Treatment Topics provides extensive resources on safely prescribing opioid analgesics, including treatment planing, risk management, and regulatory/legal issues. Resources also include current guidelines, review articles, policy statements, opioid-specific articles, and other guidance for healthcare providers.

Go to resource listings at: https://pain-topics.org/opioid_rx/
U.S. DEA Controlled Substance Schedule

Describes the 5 categories of controlled substances in the U.S., with prescribed opioids falling into classes II, III, IV. This document is a general reference and not a comprehensive list denoting product brands. It describes the basic or parent chemical and does not describe the salts, isomers and salts of isomers, esters, ethers and derivatives which may also be controlled substances.

Go to listings at: https://www.dea.gov/drug-information/drug-scheduling
Pain & Addiction Treatment Resources at Pain Topics
This section of Pain Treatment Topics focuses on the clarification, identification, prevention, and treatment of addictive disorders within the context of pain and, conversely, on pain management with opioids in persons having a history of substance abuse or addiction. Guidelines, review articles, and other resources are listed and linked.

Go to resource listings at: https://nida.nih.gov/publications/drugfacts/...
SAMHSA Substance Abuse Treatment Facility Locator

This searchable site from the Substance Abuse & Mental Health Services Administration (SAMHSA) lists addiction treatment facilities throughout the U.S. and its territories by specific location. Most facilities also offer a range of mental health and other services for persons with addictive disorders. There also is a separate locator for buprenorphine-prescribing practitioners.

Go to listings at: https://findtreatment.gov/
For additional advice, there is a Referral Helpline operated by SAMHSA's Center for Substance Abuse Treatment: 1-800-662-HELP (English & Spanish).
Back to Contents List for this Page